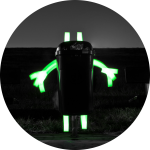 My name is Stefan Becker and here you can find all of my published photos. At the moment I am mostly experimenting with this page and also with my camera. So if you want to give some helpful suggestions or critique you can do that either here in the comment form or via e-mail at 'mail at beckerstefan com'.
All photos are licensed under the Creative Commons BY-NC 4.0, but you can also purchase printed copies in my own Pictrs-Shop. There you can get my photos on high quality posters, canvas or other products.
My Public PGP Key or S/MIME certificate for encrypted communication.